Strategy Deployment
Bringing strategic methodology and high
performing teams together to succeed.

Scroll down to learn more or talk to us.
Nimbleness in strategy execution is today's competitive advantage
Executing your strategy is not as easy as it seems.

It's not enough to communicate your strategy – you've got to get the right teams working on the right priorities at the right time.
Organisations often fail at execution due to misalignment of deployment and teamwork.
Often, we throw people and money against ambiguous goals and expect magic to happen.

Our disappointment shows in dismal results, over-worked and demoralised teams, and our continued Sisyphean attempts at repeating our mistakes.

Project managing strategy deployment and high-performance teams are hard to do internally – this is where we come in as your strategic deployment partners.
Download Our Presentation
Success you can build upon
The People Perform 8-STEP programme is designed to enhance leadership performance, create high-performance project teams, and generate effective strategy deployment in your company.
ATTRACT

A strong leadership team ATTRACTS top level talent, customers and high performing project teams
ENGAGE

ENGAGE with each other across the company and create an environment of teamwork and inclusion.
RETAIN

A focus on execution to completion provides everyone with that feeling of success resulting in RETAINING employees and customers.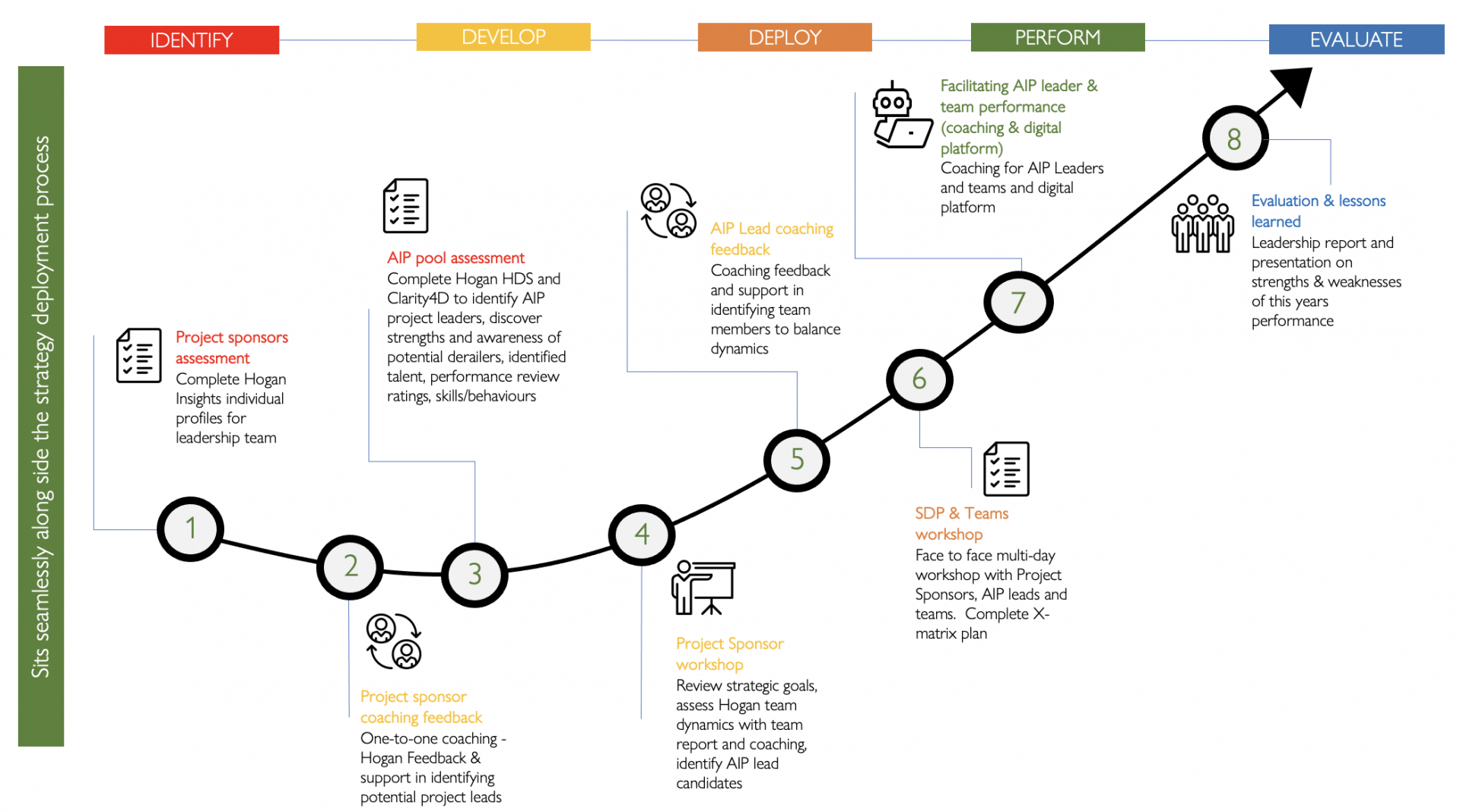 Do any of these sound familiar?
Strategy deployment or project team derailment due to poor leadership
Your SD faculty use internal talent data combined with psychometrics to focus on enhancing leadership skills while providing ongoing coaching that allows us to address issues as they arise.
Unfinished projects that lead to incomplete/unfinished strategy deployment
Our 8-step process on creating, developing, managing, and trouble-shooting projects pushes strategy deployment to a conclusion.
Team performance isn't measured, or project success is not tracked
In order to learn from mistakes, we complete a review/postmortem of projects as part of our process to measure results and understand why projects succeed or fail.
The wrong people in the strategy deployment/project teams
Team-based psychometrics allow us to bring intelligent discussions to the mix, generating the right questions to ensure the right people are on the right teams.
Your SD coaches track and measure progress and can move teams and leadership around if needed.
Relying on the same pool of people to deploy strategy
Our SDP process not only provides a wider pool of people, but it also creates diversity in the mix of the project teams.
Time is spent putting out fires rather than growing the business
The methodology brings structure to managing growth and change plus our external coaching keeps projects on track.
Too many projects in the pipeline
The approach we take is to help business leaders focus on the critical few to help achieve breakthrough growth.
New! 21/22 L & D Brochure
Interactive. Easy To Navigate. Our brochure is here!
Created with