Make Hybrid Working A Success
Organisational Change | Leading A Hybrid Team | Being An Effective Team Member |
According to research by the Harvard Business Review, in January 2022, more than 90% of employers are planning to adopt a hybrid working model for their knowledge workers in 2022.

The changes we will see in hybrid working will potentially bring massive change to company culture, leadership behaviours, and talent retention. These changes are both global and local and mean organisations, leaders, and teams need training and assistance when implementing hybrid models.

People Perform have designed and developed a model for all stakeholders to get the best from this new working environment. We can offer the research, advice and learning to make your move to hybrid working, both engaging and productive right from the start.


Scroll down to learn more or talk to us.
Watch Our Video
Discover our hybrid working model
Organisations
People Perform help businesses find a solution that meets the needs of their clients, community, leaders and employees. We know some companies have pressing business reasons for people to come back into the office. We help you manage all your stakeholders.
Business Leaders
People Perform help your leaders adapt to this new reality by providing research and interactive training to help them make that transition and know why it is important. Have a look at the blog here so you can see what goes into the leader and team training.
Teams
While leaders have a greater responsibility, it is essential for teams to discuss their impacts and collectively create ideas and practices to work better in hybrid teams. This training helps support leaders by giving skills and ideas to their team, so everyone has understanding and knowledge to be part of positive solutions.
Human Resources
There have been lots to do for the HR team due to Covid. We support your next steps. We sometimes help with process and policy changes for our clients, but our core activities are designing and delivering training for your leaders and teams. People Perform have run many sessions and deeply understand the subject matter, so you can relax knowing that the investment is in the hands of experts who will take your hybrid working to the next level.
The challenges
Fairness & equity. How to manage access to flexible working and what is needed to make this happen for all employees. Another interesting area is treating office-based and remote workers fairly around performance management.

Onboarding. Practical advice on onboarding and the changing leadership needed to ensure new starters flourish.


Social dynamics / teamwork. Keeping social ties is critical for retention and maintaining your organisational culture. If working relationships suffer due to hybrid working and the pool of jobs increase due to geography being less critical, the great resignation could shift to sustained resignation.Become a better professional

Organisational skills. Meetings management has always been important, but the hybrid model drives different skills to make it work well over time. Less face-to-face time means leaders and teams need to focus more on engineering collaborative time.

Consensus and consistency. Many CEO's want their employees to come back full time into the office, and many employees don't. Achieving productive compromise will be essential for retaining and attracting the best talent in the marketplace.

Leadership. Hybrid models place more leadership emphasis on building inclusivity, empathy and trust. The importance has been raised by Covid and hybrid working and will be a crucial part of leadership training in the coming months and years.Master Certification in Market Research
Our solutions
Research. We have a huge range of research just about hybrid teams and its impacts now and potentially into the future. We only take are material from trusted, global and national sources. We are happy to share our learnings so far to cut down the time for you.

Facilitate discussion. Understand what is the art of the possible. What does the business want to achieve? What are the strengths and challenges that Covid has exposed in your organisations working practices? We help organisations facilitate those discussions with the C-suite and the wider organisation. This helps you build a hybrid model that works for your business.

Policies and procedures that reflect the current reality. Whilst wholesale process changes are not needed it is good to review what does need reviewing.

Communicate the change via interactive learning.

This is the big one! Please check out

our blog

for more details. We run separate sessions for leaders and teams as there are different factors involved. The learning packages we put together focus on leadership and team behaviours. We have run over a hundred sessions across industries on hybrid teams. This is a nuanced and complex change for both leaders and teams.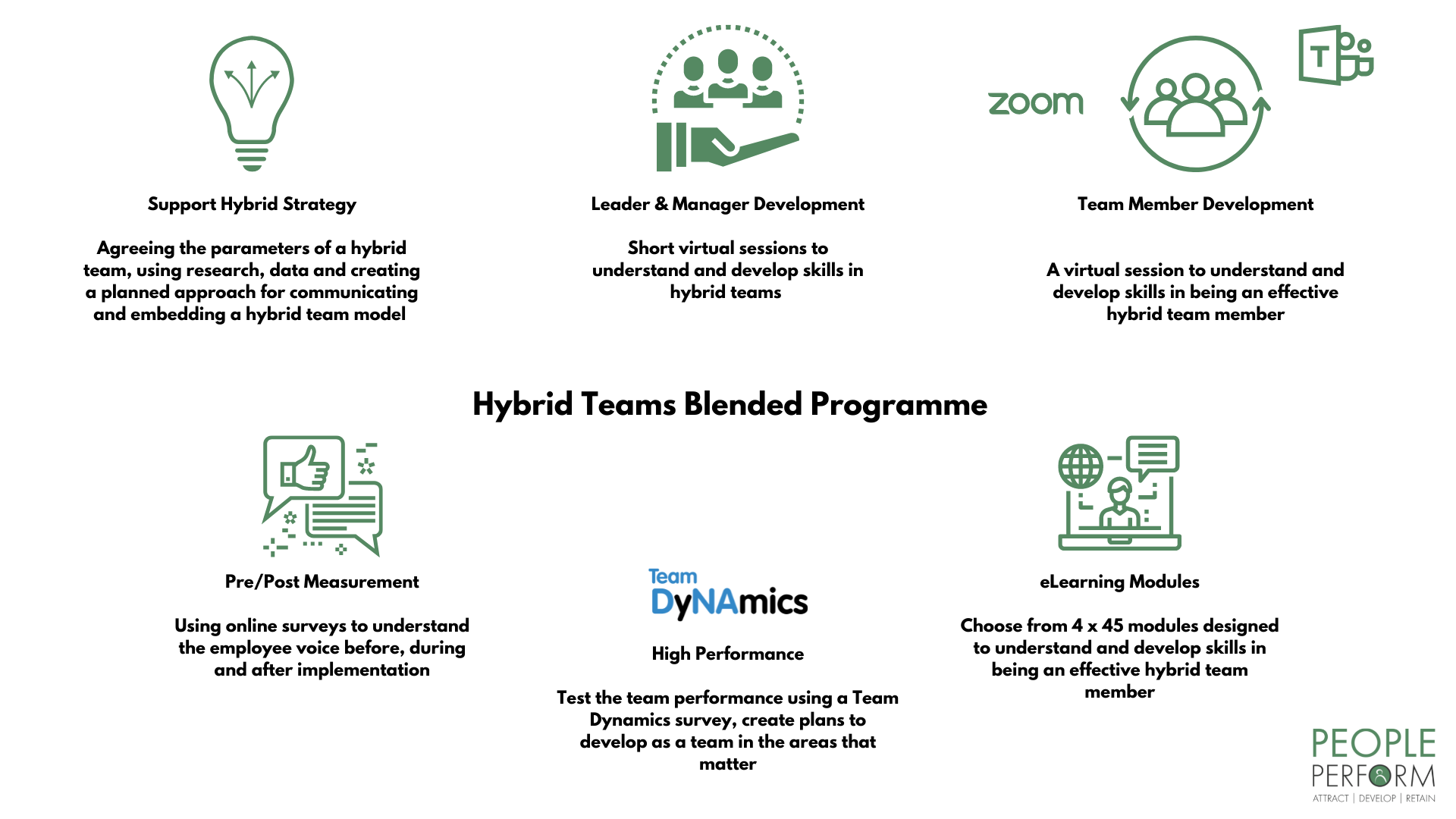 What Our Clients Say
Guide Dogs For The Blind Association
We are really pleased with the collaborative approach People Perform have taken to develop training to equip our leaders with the skills to get the best from our new Hybrid Working model. The research and learnings from other customers that People Perform have shared has been extremely helpful as we navigate our way through a new way of working. Richard has been keen to ensure that all of the training is fully accessible, actively asking for feedback to improve accessibility and wanting all delegates to get the best experience from the training.
Choose what works for you...

Sensibly Priced.
Pick and choose or build a full-scale blended programme.
Research
Book yourself a free consultation where we can get you up to speed with the latest research.

Our philosophy is sharing so don't be shy and give us a call on 0333 577 1319.
Our Delivery
People Perform can run face-to-face sessions but this learning lends itself to virtual learning via Google Meet, MT Teams and Zoom. All our sessions are very interactive and designed for maximum blended learning.
Leader Sessions
90-minute to 2-hour workshops designed to support employees and teams to work effectively in a hybrid model.

From £450* plus VAT.* max 12 participants per session
Digital Learning
SCORM compatible and branded to your guidelines. Don't have an LMS? Our team can build a digital resource hub for your delegates to access; Any time via any device.

eLearning modules from £2000* plus VAT.
Digital Resource Hub from £3000 plus VAT.

*Discounts available for multi-module purchase.

Team Member Sessions
60 to 90-minute workshops designed to support employees and teams to work effectively in a hybrid model.

From £450* plus VAT.* max 12 participants per session
Other Services
Online questionnaire before and after to evaluate training and explore confidence levels in transitioning to new ways of working.
About People Perform
Meet The Team

Kirsty is experienced in new team start-up coaching, team performance, facilitating agreement in strategic imperatives and relationships between team members.
Co-Founder. HR Process Guru.

Richard has spent his career developing skills, knowledge and experience in senior global talent acquisition, management and culture roles.

Partner. Digital Innovator.

The creative soul behind all of the great technology we have at People Perform, Lee fuses technology with learning to make colourful journeys.

How healthy is your business strategy?
Take our complimentary business Health Check.

You will get the most benefit from the Strategic Deployment Health Check by being realistic with the current situation, with both the positives and challenges of current delivery.

We will analyze your responses and provide you with a summary report and free post-response phone/web call.
New! 21/22 L & D Brochure
Interactive. Easy To Navigate. Our brochure is here!
Created with