At some point in our working lives, we have all exhibited signs of stress.
In fact, according to a survey conducted by CIPHR, 23% of us feel generally "stressed" about work.
If you throw in the challenges of Covid-19 and the fact that 81% of employees (CISCO) do not wish to return to the office, then you have a situation in which organisations and leaders need to consider the impact of stress on teams.
Here at People Perform, we use the language of colour as part of our team development programmes and in this post we are going to be talking about stress in colour.
If you are unfamiliar with colour energy and the language of colour, you should check out our most
recent blog
first.
Flipping Out & Stress Triggers
As a reminder, each of us is a blend of all 4 colour energies, leading often with a single colour energy and with preferences that can influence our behaviour.
In this article, we are going to focus on 4 key points:
How each of the four colour energies will have their own unique way in which stress manifests itself in their behaviour.
Spotting signs of stress when people "flip" their colour energies.
How leaders can spot stress triggers in their teams.
How team members can build resilience to those triggers.
Let's take an example and look at someone leading with Blue energy.
When operating with their lead colour energy at highest performance, an individual leading with Blue energy takes a logical, step-by step, pragmatic approach. Under stress, this behaviour can manifest itself with the individual being seen as cold and calculating or even frozen in their behaviour.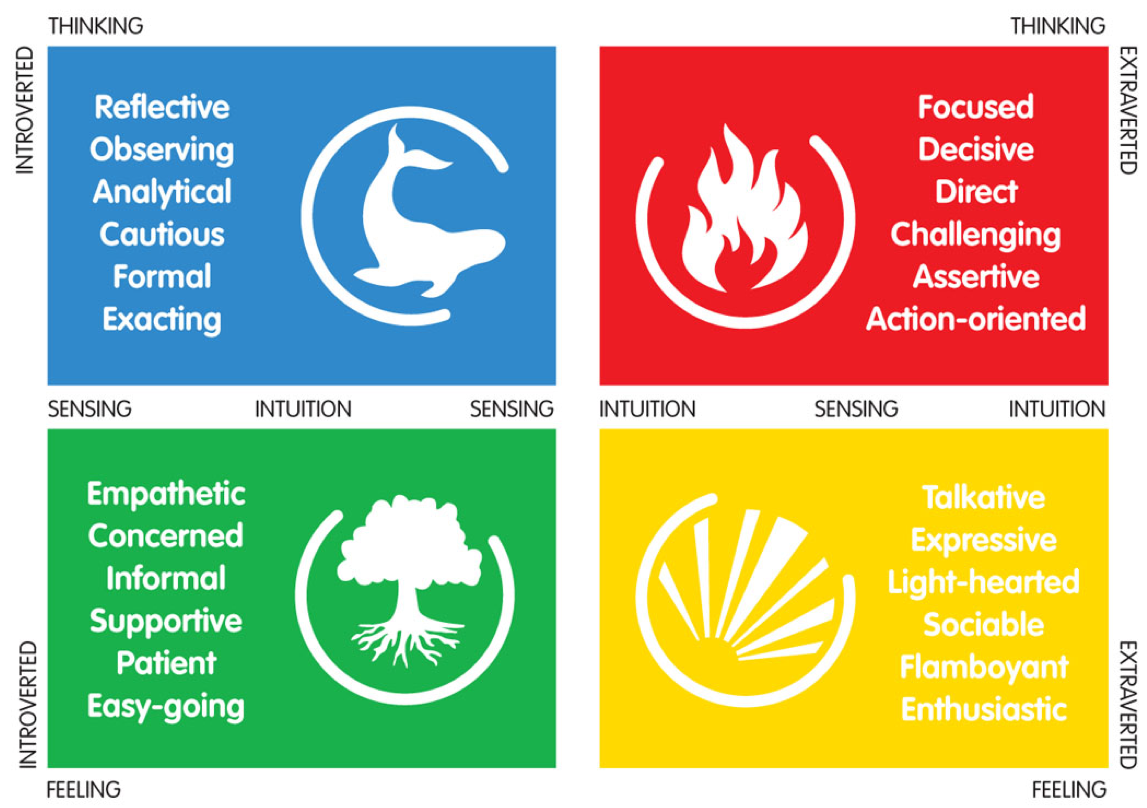 Someone leading with yellow energy will normally be in their element or performing best when they are involved in team activities and able to adopt an enthusiastic, story-telling communication style.

Under stress, that same individual leading with yellow energy will often display emotional extremes, perhaps even appearing frantic.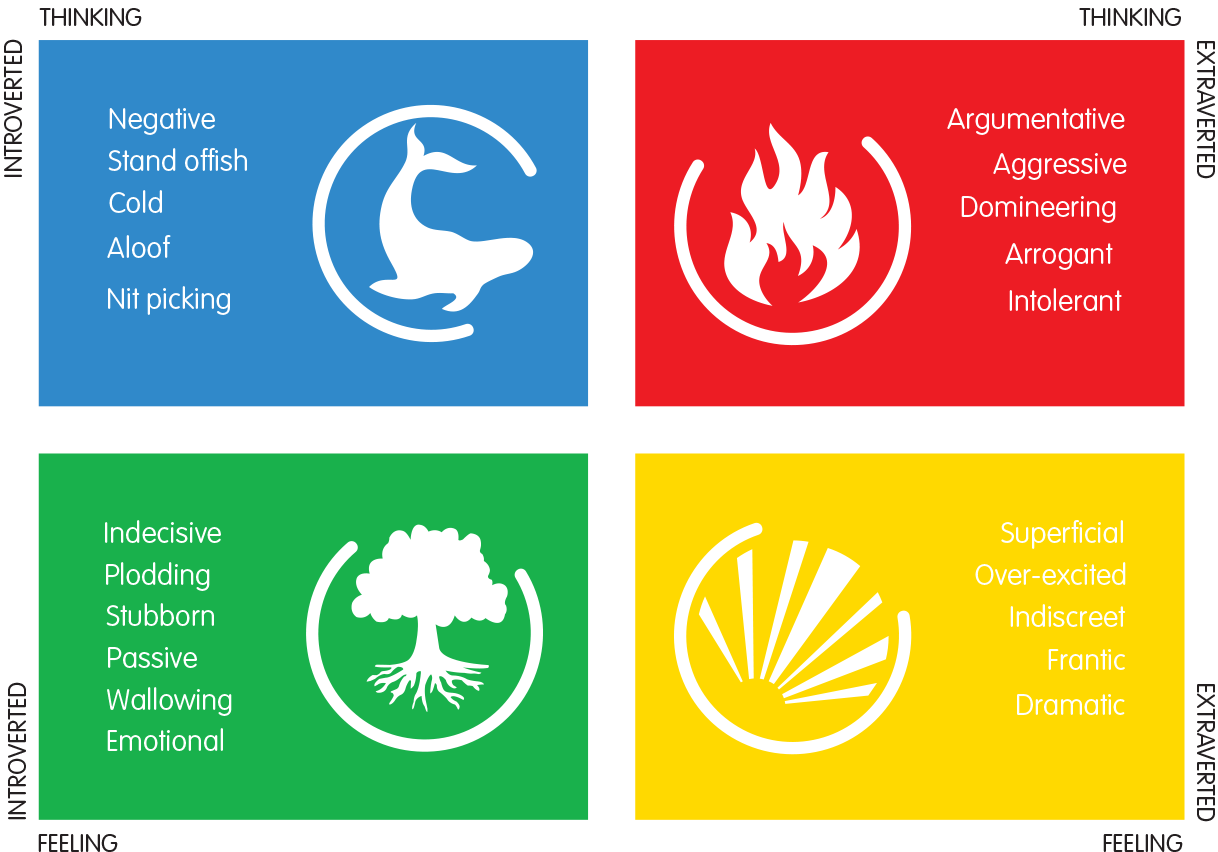 So how does this link to
hybrid teams
? Well there are a few considerations to make.
For a team member leading with yellow energy, one of the key factors would be to ensure there are no "cliques" or siloed team behaviour which would only increase the levels of stress and that individual feeling they are a victim.
Another consideration is ensuring that everyone attends team meetings on their laptop regardless of being in the office or working remotely.
In the case of a team member leading with blue energy, that cold behaviour may have a disruptive effect on the wider team and its ability to work effectively together.
So, what causes stress?
Let's take a quick step back and look at what causes stress.
There are common triggers which may involve:
being under lots of pressure
big changes
health
finances
not having much controltimes of uncertainty
If you feel stressed and the amount of stress you experience will vary greatly between the four colour energies. Again let's link this back to teams and more relevantly, hybrid teams.
Those with a preference for high yellow and red energy may find themselves to be energised and feel confident virtual meetings where they can vocalise their opinions, whilst the idea of participating actively on virtual meetings for those with a more introverted preference can cause pressure and in turn a lot of stress.
Leading A Team
As a leader of a team, you can look for signs of stress through the language of colour, often referred to as stress triggers.

The graphic below indicates some of the stress triggers across each colour energy.

Other triggers could include a slow pace for those leading with red energy, distractions in the case of those leading with blue and most certainly a lack of consideration for others in the case of team members leading with green energy.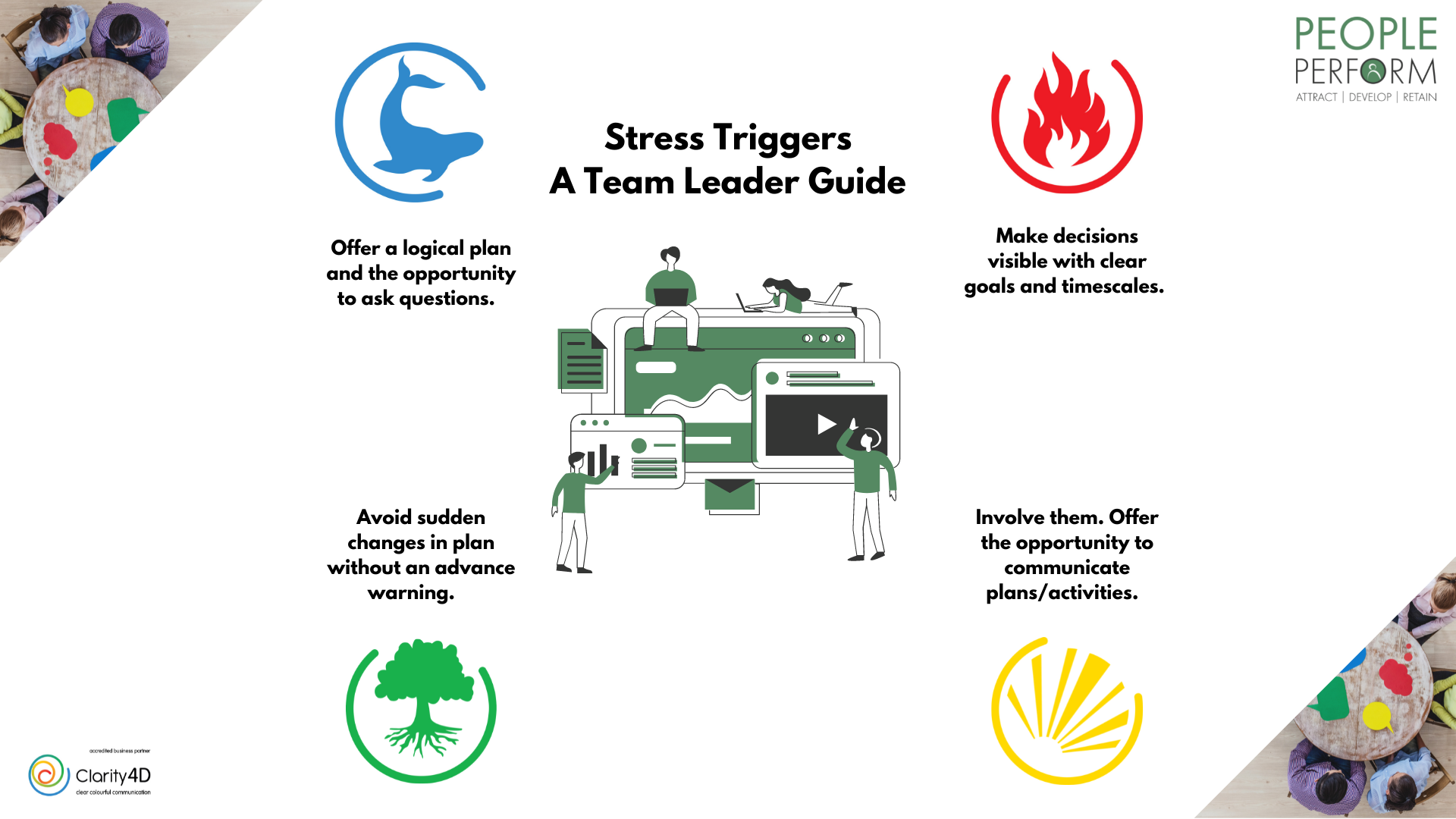 Another way to summarise this is:
Blue Energy – Loss Of Competence
Red Energy – Loss Of Control
Yellow Energy – Loss Of Choice
Green Energy – Loss Of Connection
If you recall, each of us is a blend of all four colour energies but we each tend to lead (typically) with a single colour energy.
In the case of managing teams and making them work effectively together, the key to success is recognising how all four colour energies play a key part in recognising and reducing stress in teams and team members.
It's ok to have a goal or a team target
(Red)
. It's even better to have a clear and detailed plan
(Blue)
, a sociable and fun way of achieving that goal
(Yellow)
and an empathetic and inclusive way of involving the entire team
(Green)
.
Being A Team Member
As a member of a team, you can in turn develop resilience through colour or colour energy and learn to build that resilience over time. Let's consider the graphic below which you can use a visual aid in your own team.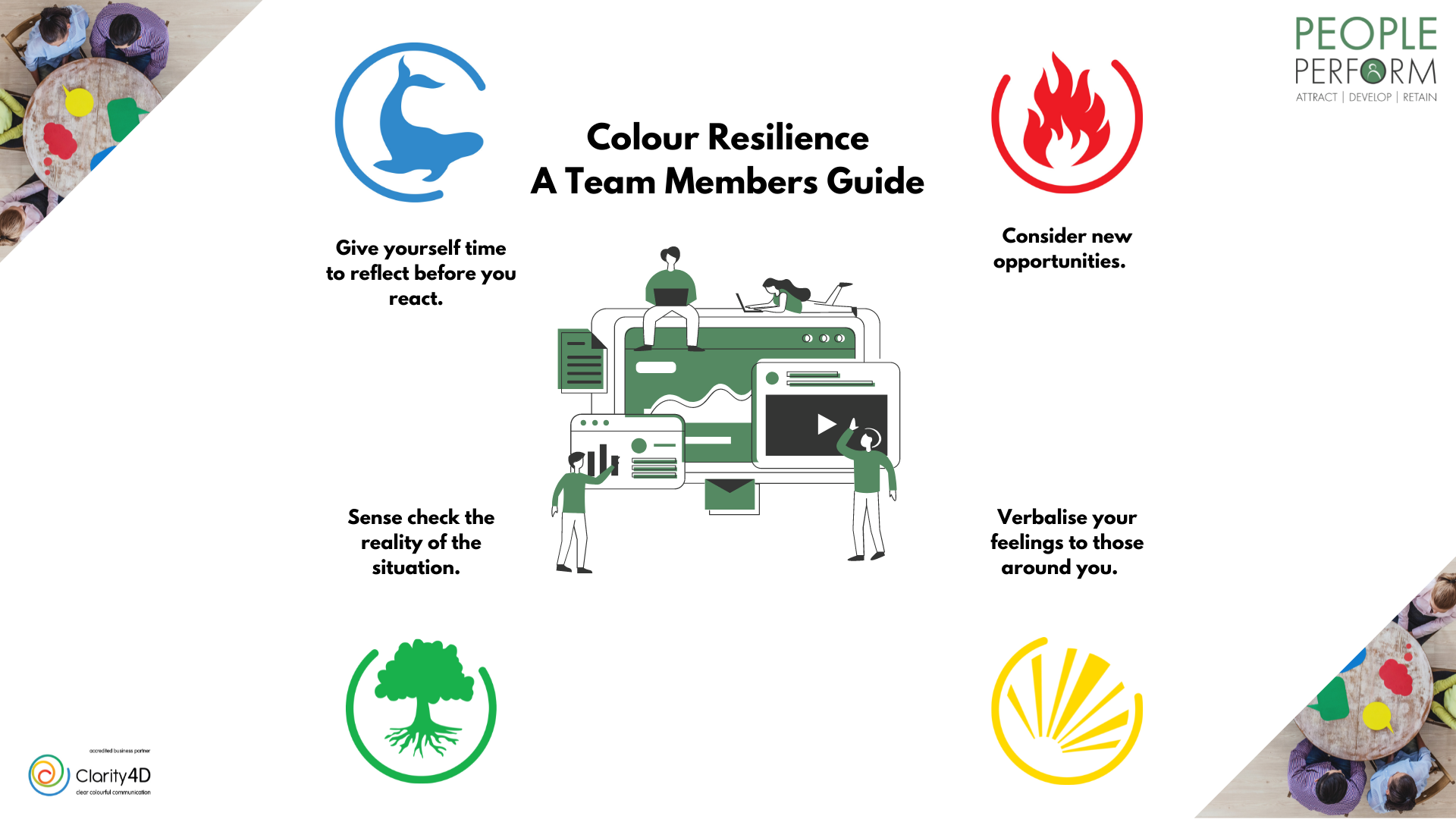 For those leading with green energy, a sudden change in plans can cause high levels of stress. However, taking some time to sense check the reality of the situation may lead to recognising that it's not a big a change as you thought.

This is particularly relevant in hybrid teams which is why our Hybrid Team programmes include sessions for both leaders and teams on some of the mistakes to avoid, along with eLearning modules designed to improve communication in hybrid teams by using the language of colour.

Like the sound of colourful teams? Then we are the partner for you!

Talk to us about our team development programmes or our range of psychometrics and personality profiling solutions.

Simply drop us a line via hello@peopleperform.co.uk or send us a message in the Academy:)

Taster eLearning - Building My Resilience
Did you know? We offer free eLearning on People Perform Academy?

Resilience is a key development area for 2021 according to LinkedIn Learning, which is why we developed an eLearning course for free.

Simply create a login and enrol. No strings. Only bows.
New! 21/22 L & D Brochure
Interactive. Easy To Navigate. Our brochure is here!
Created with