Every company today is seeking an edge – whether it's an edge against the competition, an edge to successfully launch a new product in a new market, or an edge in creating an organisation that can successfully grow, learn and bring in exceptional results year over year.

We all know there is no "silver bullet" to give us that edge. Still, successful companies have been using the globally recognised Strategy Deployment (S.D.) Processes for many years to impact and transform their businesses.
Many have achieved a 'continuous improvement' and 'problem-solving" mindset in their organisation by utilising sound S.D. process principles.
Like many business methodologies, there is no "one" Strategy Deployment Process.

A good S.D. process has its roots based on the Hoshin Kanri approach used by Toyota and other good business practices, exemplified by Bridgestone Tyres, G.E., and the Danaher Corporation.

Adhering to basic principles yet customising the process for the organisation's needs separates companies who successfully use S.D. from those who don't. Strategy Deployment still delivers solid results and change across many industries and countries today.

We have taken the opportunity to strengthen outcomes by introducing a focus on high performing teams to deliver Strategy Deployment.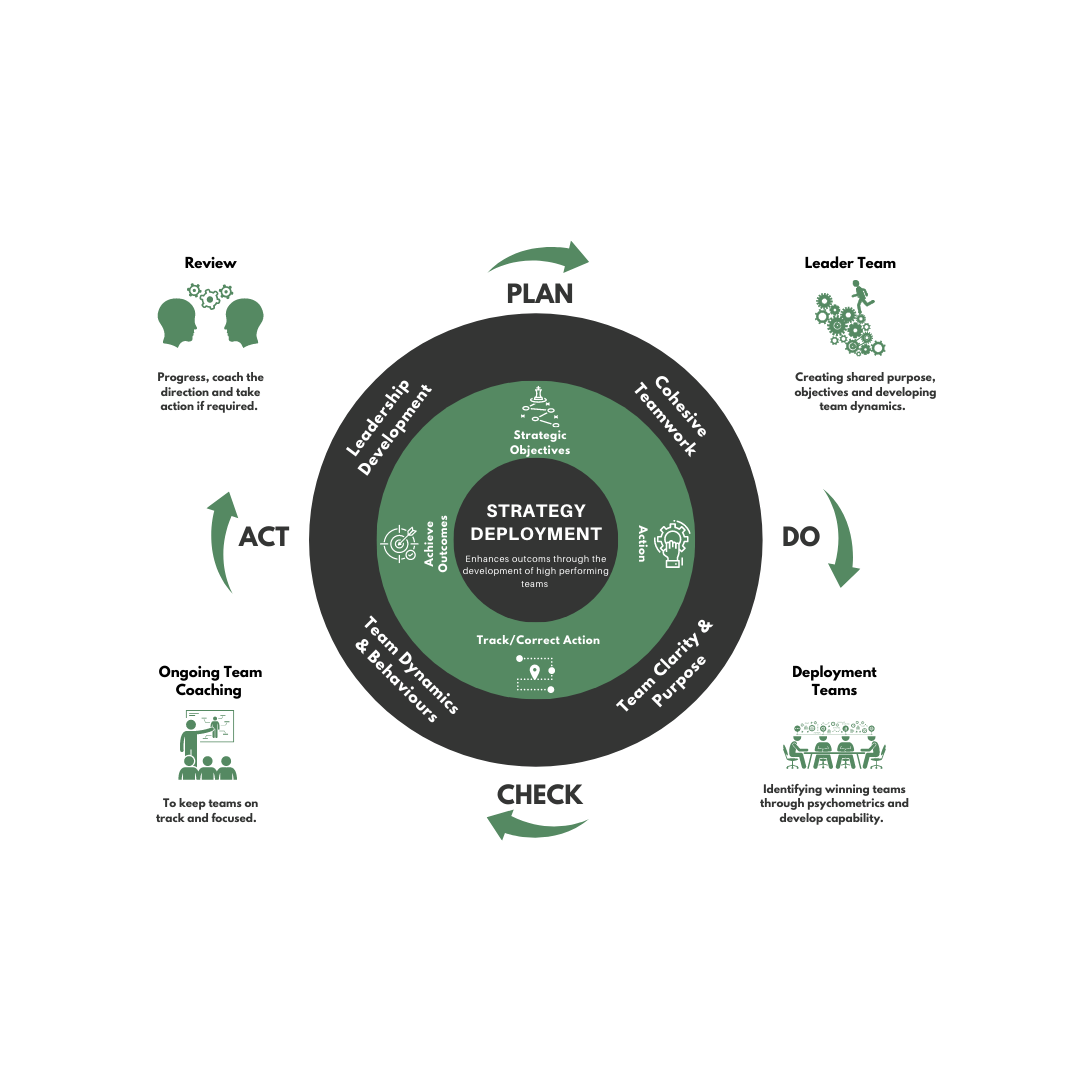 Lessons Learned
I first engaged with Strategy Deployment in 2012 when working for a multi-billion-dollar global engineering corporation.

When rolling the methodology out across the European businesses, we recognised that the Strategy Deployment process in its pure form yielded results and created a universal language for teams to be engaged in supporting the delivery of business improvements and change.

From a people perspective, I recognised some critical elements that could improve to strengthen the engagement of teams and the delivery of results.

The people lessons we learned were:

-Leaders must buy into the programme – People follow leaders, their behaviours, commitments and attitude.
-Define roles, clear expectations, and behaviours at every level – Structure here is essential – it gives you a foundation to build on.
-Engage at every stage; you can't over-communicate – enough said.
-Use S.D. to develop high potential talent – Part of the S.D. process is putting together improvement efforts to manage and lead. This provides an excellent opportunity to develop your stars.
-Use insights to identify and build team dynamics to accelerate performance.
-Coach individuals and team performance.
- Keep the momentum, regularly review and coach to effectively course correct.

I took the opportunity to reach out to the consultant who introduced me to Strategy Deployment in 2012, Bob Lyons. These discussions were interesting as my experience has mainly been as an internal specialist whilst Bob has been an external S.D. consultant for many years.

Bob and I have spent many hours chewing the fat over the experiences of Strategy Deployment. We maintained that Strategy Deployment is a great tool to help create change by strategically aligning the process improvements with business goals and objectives.

It provides a straightforward methodology with a common purpose, agreed objectives, and creates leverage for everyone to engage in change and develops a strong culture of continuous improvement.
Overcoming The Challenges
Strategy Deployment is not a difficult concept to understand – but it does come with its challenges. The area that creates the most significant challenge is the people element.

This is often recognised once the Strategy Deployment programme is well underway. The challenges varied from leadership buy-in and commitment to project team performance, and at this point, another consultant would be invited to run team development sessions.

These team coaching sessions were implemented after the project derailed. We challenged whether the team development should be part of the Strategy Deployment process and not a one-off intervention or an afterthought?

Our conclusions led us to recognise that to deliver great strategy, increase performance and sustain results, teams need to be developed alongside implementing the Strategy Deployment process.

Using these insights and combining our skills and experience of Strategy Deployment and High-Performance Team Coaching, we are now delivering Strategy Deployment combined with the high performing team development and coaching process.
Example Methodologies
An example of this methodology is our work with a U.S. based client with a global footprint in engineering.

This organisation has implemented Strategy Deployment globally in the past with varying levels of success.

Their challenge is to keep momentum in the projects, and the leaders and teams focused on the projects alongside their day jobs. To combine the S.D. and teams for improved results, we have:

- Introduced psychometric profiling alongside the internal talent management processes to build leaders and teams. This has increased the quality of conversation, and better leaders and team dynamics being chosen

- Built a coaching process to sit alongside project meetings to identify team derailers as we go along.
- Trained all leaders and teams members in the S.D. process and the team building process.
- Created a common language and framework where honest conversations on performance and challenges can be had.
- Brought external neutrality to the process, which helps raise the right issues at the right time.
- Created administration online to aid project implementation. This ranges from job specs to S.D. training material.
So does it really work?
Combining both Strategy Deployment and Teams seems a brilliantly simple idea, and we feel it is!

Here at People Perform we have built a lot of structure, experiences, and processes to ensure our client's strategy is successfully deployed via high performing teams.

Our years of experience on both the people and Strategy Deployment side has seen it all – the good, the bad, the ugly – and we have learned from all of it and are able to pass on those lessons that make a real difference – both in what to do and what not to do.

The next step is we want to share that with you and help you grow your organisation into what it can be and should be.

If the issues we have highlighted resonate with your attempts at deploying strategy in your business, then contact us and organise a chat to see if we can help.

If nothing else, you will learn from the experiences and processes we have developed during this strategic journey of our own.
Interested in Strategy Deployment?
#Workshops | #Programmes | #Coaching
Read our brochure online. Learn how we develop high-performing teams.
New! 21/22 L & D Brochure
Interactive. Easy To Navigate. Our brochure is here!
Created with