With the worldwide eLearning market projected to be worth $325 Billion in 2025, eLearning or 'digital' learning continues to grow in scale.
Covid-19 has also changed the way we work and in turn, develop new professional skills, with 81% of employees say they don't want to return to the office, preferring a
hybrid way of working
.
Planning a digital learning programme is not an easy task but it also does not need to be a daunting one.
If you are a HR or LD Manager venturing into digital for the first time, below are 3 things that often get overlooked when planning a digital learning programme.
1 - Begin with The End in Mind
Not having a clear objective(s) is the first step on the road to spending hundreds of hours and thousands of pounds on the wrong type of digital learning journey. Video learning is always a winner and so are online quizzes and assessments but for that, you may need several pieces of software pulling in the same direction and a large enough budget to involve a decent video production team.
Be sure to plan upfront what your learning outcomes and objectives upfront and build them into the programme, the technology you choose, the type of content (more on that below) and most importantly, the delegate learning experience. This will also help with you plan a budget and decide whether it is more cost-effective to outsource or stay in-house and up-skill existing learning team members.
Think about the following:
What is the over-arching business goal?
Is this purely digital or a hybrid/blended approach? How long do I have for the programme?
How efficient with technology are the potential delegates?
What communications plan do I need to put together before, during and after?
Learning and Development programmes are often driven by larger organisational goals and most organisation goals are linked to a financially driven outcome.
The beauty of digital is that is highly measurable, allowing you to demonstrate a potential return on investment that feeds into a board meeting.
In fact, research shows that eLearning can increase job role retention by as much as 35% in organisations that take a proactive approach to ongoing development.
2 - Your Place or Mine?
Many programmes we have designed and run in the last year are built around an existing learning management system. In most cases, the system is a legacy asset and is used intermittently.

If you have an existing LMS but working with an external designer or provider, then 9 times out of 10 they are creating modules and content to be deployed into your learning management system.

At this point, you may very well hear that provider start talking about SCORM compatible files. What on earth is SCORM?

In a nutshell, it's an authoring tool that creates modules or complete courses with interactive content that are packaged up to be housed inside your LMS. A delegate simply logs into your LMS, accesses the file as a course and completes the learning.

Your designer or provider will take your requirements, brand guidelines any additional content such as video and imagery and use external software to 'author' a finished SCORM file.

There are Pro's and Con's to this approach and a summary is below.
Pro's
A Fast Start. Potentially easier to go live based on existing technology internally and compatible material externally from your provider.
Get what you pay for. You can dictate the timelines you require the courses or files to be completed to suit your programme needs. An external provider is paid to deliver not only the learning material but meet the deadline and they will factor this into their quotation.
Lack Of Distraction. Overall programme timeline slippages tend to occur due to other priorities facing teams in an organisation. In contrast, the provider you are working with is only focused on the project at hand.
Experience. If you have never tried creating SCORM compatible learning material before, now is not the time to start. Ask to see test options or a demo and check what levels of compatibility a provider works to.
Cross-fertilisation. This is my own term which is one of the benefits of working with an external provider. Their experience and creativity are driven by multiple projects and clients so they (should be!) constantly learning how to be better at what they do.
Con's
Cost. External design can be expensive, most providers charge by slide when it comes to designing digital content and you could be looking at anything from £4000 - £40,000 depending on the finished product.
Testing. If you are have external content and courses created to go into your own LMS, the testing process needs to be thorough and easy to complete. One of the biggest failure points on the design process is not involving two parties: the IT Department and a focus group. The IT department are there to protect an organisation from vulnerability and attack as well as make sure a laptop is working, so be sure to get a requirements document from them on what is approved and not approved before starting your discussions with an external provider. There is nothing worse than spending money on a course that will not start due to compatibility issues.
Delegate Learning Experience. The world of digital and eLearning is moving fast, and most self-directed learning is designed to be at "your own pace and in your own space". Be sure to consider how the journey for the delegate looks when logging into your LMS, accessing a hosted file, and then moving forward to the point of completion. A well-designed digital experience needs to be as seamless as possible so be sure to incorporate tips on getting started, any browser or device requirements and expectations on how long the learning itself should take.

The graphic below outlines our approach when designing external files and content for a client.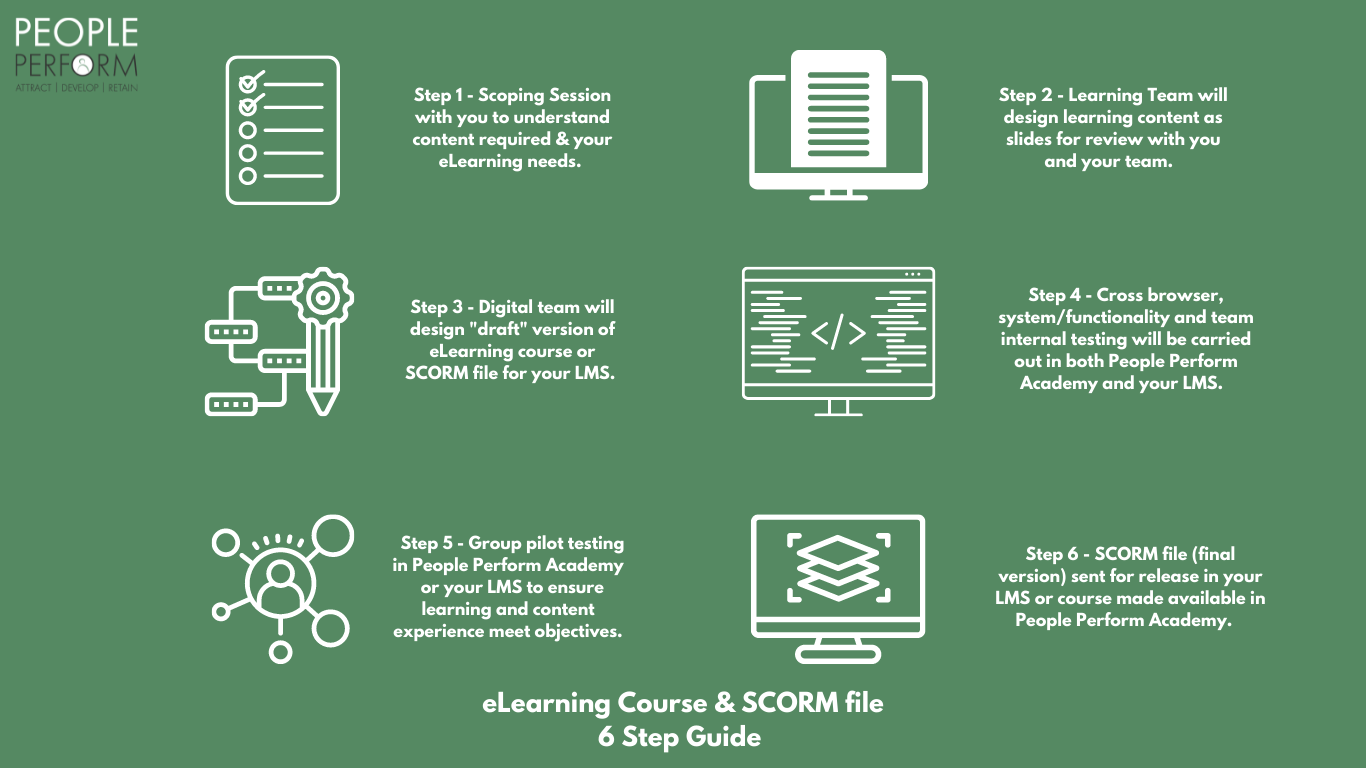 People Perform Webinar Series
High Performing Hybrid Teams
Our latest on demand webinar looks at hybrid working and hybrid team modelling. You can also access the accompanying resources we used on the live webinar to help with planning your own hybrid working programme.
3 - To Blend Or Not?
Hybrid working, hybrid teams, hybrid everything! According to the CIPD,
63% of organisations
will move to a hybrid way of working by September 2021.
Therefore, you need to consider whether to go completely online or blend the learning experience to maximise programme success. If you have hybrid teams, some are work from home full time, some are hot desking on 2 days a week or month and some are full time in the office due to the key worker nature of their role. It's also important to remember mobile workers in the field count for a large population of the workforce in industries like technology, manufacturing and utilities, to name a few.
Furthermore, if you are designing an intervention-based programme, then taking a self-directed approach of "in your own time and space" may not achieve your goals. To elaborate further, here at People Perform we use the term "required learning". In that scenario, physical 1-1 coaching, virtual sessions in action-focused groups and team building activities may need to be facilitated.
Going it alone, online, may not be enough to get everyone through the programme on time and meet the learning objective. In this instance, you may wish to adopt a blended learning experience so think about what role digital learning plays in that scenario.
Video Learning will always be a popular choice amongst remote working delegates as they can build that learning into their working week in chunks, but the power of a group session can never be under-estimated for building up team effectiveness.
It may be that an eLearning module on being an active member of a hybrid team works to embed the learning that came from a virtual or face-to-face session. It's also worth considering that different delegates have different styles.
A full-scale blended programme for a large-scale organisational change initiative may be the way to go.
An example of how we have approached this in the past is shown in the graphic below.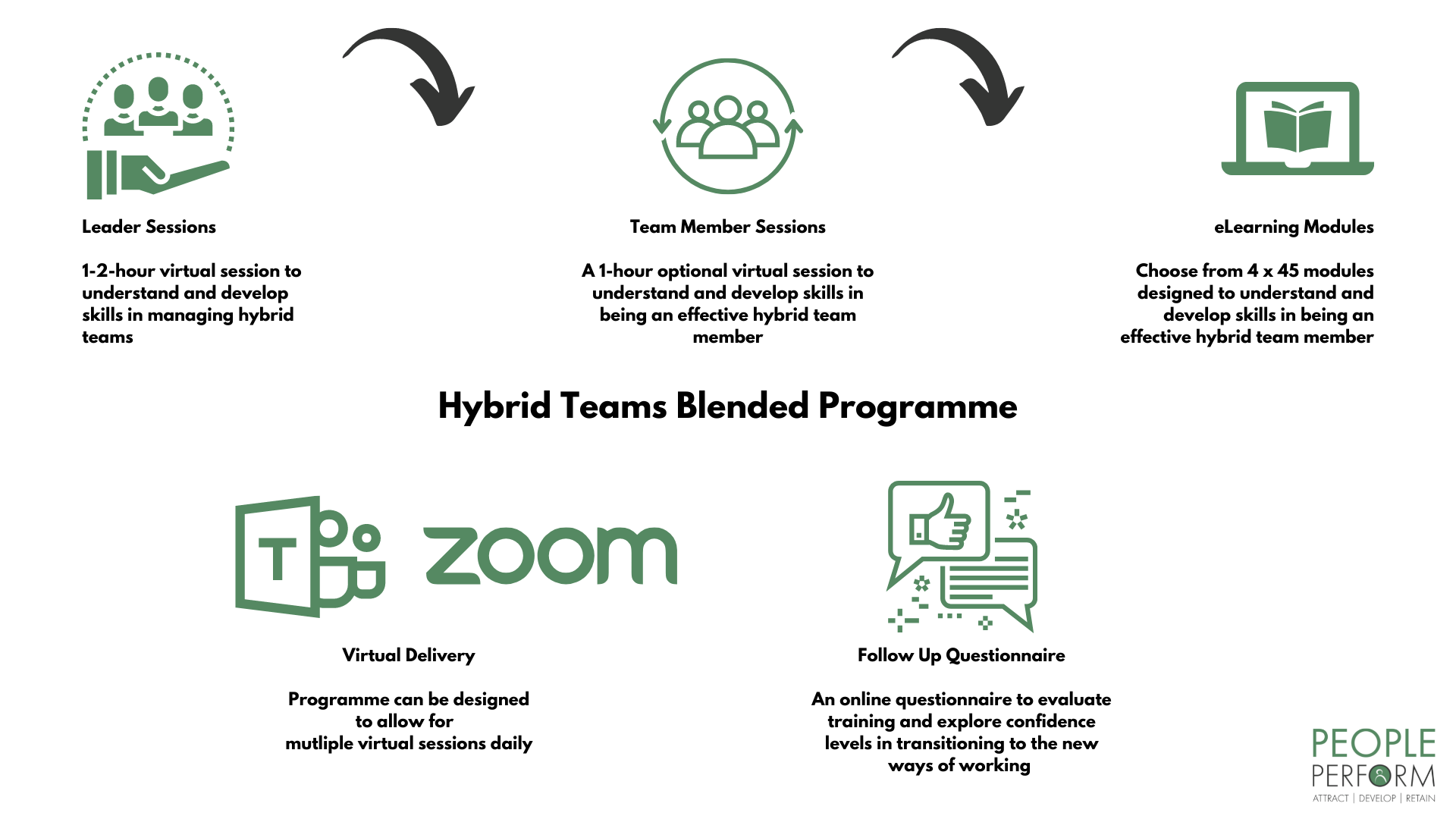 The Three 3 C's...
Finally (yes this is now 4 not 3!) one other key point to consider is the 3 C's: Communication, Communication, Communication.
You have no doubt experienced that running virtual meetings takes time, effort, and planning.
Running a digital learning programme is no different and there are arguments and opinions that it's twice as hard as directing people to a classroom event. People's attention spans are getting shorter due to email bulging inboxes and our ability to miss things and need further help or support can not be underestimated.
Creating a communication plan that considers the start, middle and end of your delegate learning journey is crucial to reduce not only the time spent supporting them but ensuring your course completion rates and more importantly, course start rates are high from the off.
Delegate workbooks, getting started guides and welcome emails are all key to ensuring your programme meets your objectives and the experience for the delegate is positive; allowing you to report back to the board, demonstrably and measurably.
Here at People Perform we love a bit of digital which is why we created
People Perform Academy
, but we are not afraid to blend it up a bit either! If you would like to talk to us about our recent programmes or get an idea of how we can help support you with your digital learning as an external provider, email us at hello@peopleperform.co.uk.
You can also try our own digital learning today for free by accessing one of our taster courses. We recommend our course on
Building My Resilience
which you can share with anyone in your organisation or even friends and family. LinkedIn Learning highlighted resilience coaching and training as a top skill back in 2021 which is why we designed our course for anyone to access.
To get started you just need to create an account, update your learning profile and then you can start learning.
Sources
CIPD Latest Insights
25 Digital Learning Statistics
New! 21/22 L & D Brochure
Interactive. Easy To Navigate. Our brochure is here!
Created with