What is your opinion about the question above?
Some of you will automatically think, of course, you need to be authentic; why wouldn't you be?

Others will think, work is work and home is home and only rarely shall the twain meet.

For me, being my authentic self at work has undoubtedly been one of the driving principles of my career and remains so. My motto has always been to try to be as friendly as possible, show my best side at work as much as I can, respect others in my professional life and, where necessary, and on rare occasions, 'show my teeth' to those who deserve it.

Quite a few years ago, a colleague shared an article with me which summarised this ethos very well. It was called 'Authentic Leadership: 8 essential traits'. I've tried to google it since and can't find it, so let me know if you want a copy as I have a pdf sitting on my hard drive.

The article's essence was that to be a great leader, you need to be authentic.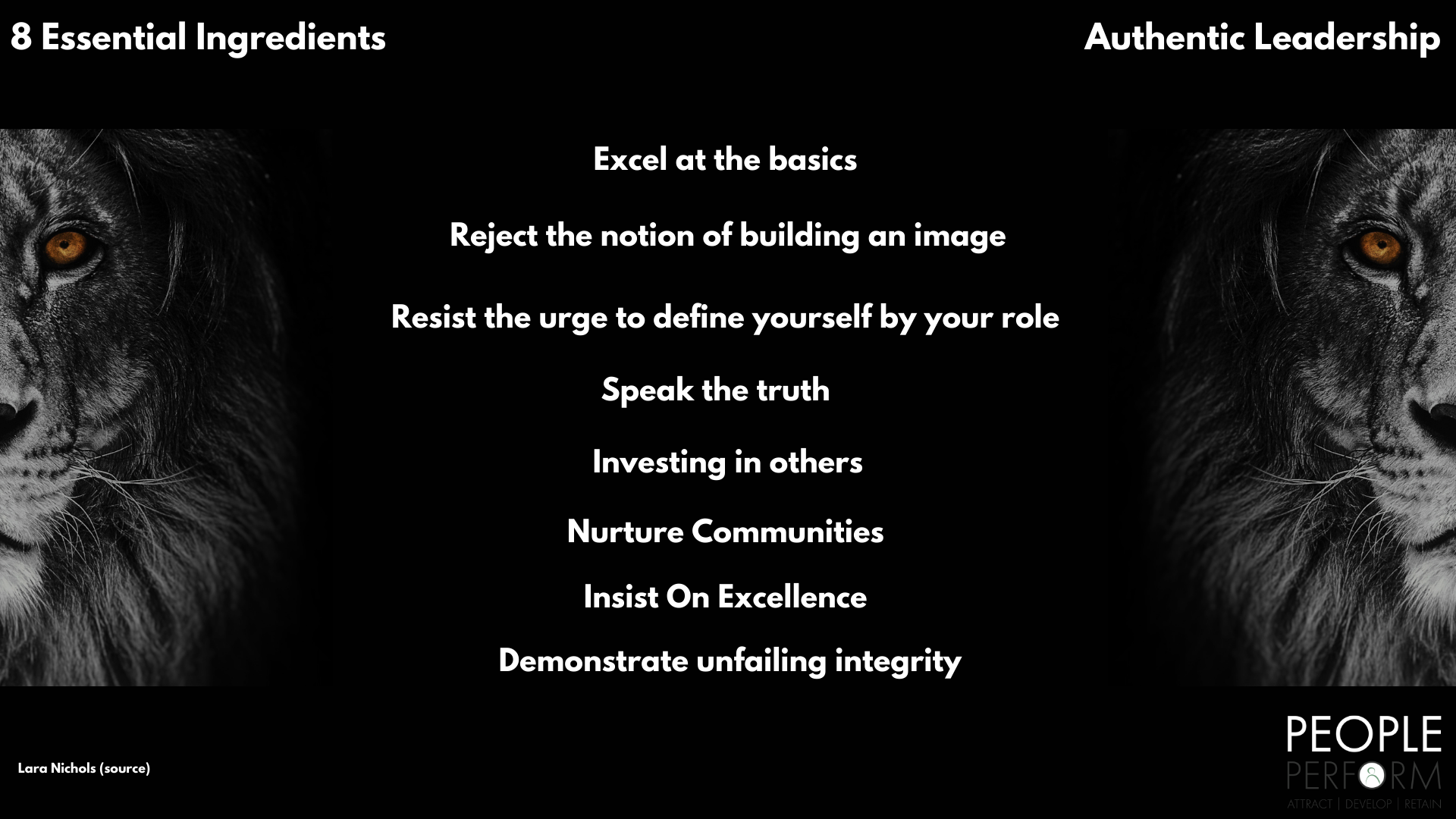 Leaders like Eric can unsettle you as you can't see past the carefully cultivated image.
The article gave the example of 'Eric'.

Eric was a relatively senior leader in a large tech firm in California and had cultivated a work persona over the years that was definitely not the Eric that you would know, had you socialised with him as a personal friend outside of work. Eric had developed this persona over many years as he had gradually climbed the corporate ladder of his career.

As a result, colleagues intuitively mistrusted him as, to them, he didn't feel genuine; there was something that just didn't ring true. I have met people like Eric in my career, although they have been rare.

Leaders like Eric can unsettle you as you can't see past the carefully cultivated corporate image. It makes you question who they really are or even what are they hiding?
people perform taster series
Building Your Resilience
Get an assessment of how resilient you are now and learn how to start building your resilience today.
The article continues by outlining the eight essential ingredients for authentic leadership. These are:

Excel at the basics. The ability to listen, confidence, constant learning, kindness, respect, self-awareness, courageousness, responsiveness and courtesy.

Reject the notion of building an image. Authentic leaders do not waste time on managing perceptions. They are consistent in who they are and what they do.

Resist the urge to define yourself by your role. A genuine approach to your work will shine through.

Speak the truth. Authentic leaders are true to themselves person speak the words that are aligned to who they are.

Investing in others. The most effective way for leaders is to do everything you can to make others successful.

Nurture communities. Just as team building and team management were important in the 90s, worldwide communities are important today. Authentic leaders grasp the importance of globalisation and the power of inclusion.

Insist on excellence. Authentic leaders expect the very best. They go beyond expectations and clearly articulate the essence of quality.

Demonstrate unfailing integrity. Nothing derails authentic leadership as quickly or severely as questionable integrity.
My view is that holding back from your authentic self on occasions is probably a wise move.
I loved this article and still do.

However, I also questioned it over the years as I began to operate in more senior roles. I am now independent of corporate life but still coach people in senior corporate roles, and this question of authenticity is a theme that comes up quite often in those leadership coaching conversations.

My view, however, remains the same, that holding back from your authentic self on occasions is probably a wise move; in fact, in some situations, it's even essential. Indeed someone recently commented that moving into senior roles means that your organisation 'now pays you for a different set of behaviours'.

BUT, at the same time, you can remain authentic. The tricky thing is to know when to hold back and when to call on your own authentic self when leading your team or business.
'Authentic leadership can be bad leadership'
A scholarly piece by Deborah Gruenfeld and Lauren Zander in the Harvard Business Review entitled 'Authentic leadership can be bad leadership' makes this point; extremely articulately.

None of us are perfect. That means we all have numerous opportunities to get it right and many opportunities to get it wrong!

In the article, they recommend a few actions; these three resonated with me:

Find out how you seem to others.

Ask a trusted colleague what is that is difficult about working with you. Listen carefully, and write it down in the speaker's words. You are not allowed to explain, justify, or defend.

Talkback.

When you are alone again, respond to your co-worker's accusations in writing.

What was going through your head while you heard what is wrong with how you are?

What are your justifications and excuses for what you do?

List all of them. Put it in the crankiest, brattiest, most self-righteous but authentic voice you can muster. Read it out loud to yourself. Acknowledge that this voice is yours.

Find an alternative.

The next time you feel the urge to do this thing that makes you difficult, what will you do instead?
As a leader, it is also good to know when to lose a battle to win the war.
So, what is my personal conclusion?
I try to be authentic as much as possible, and certainly, out of corporate life, that is much easier.
My personal experience in corporate life is that as I got more influential in my roles, I needed to use my own common sense when to limit my natural behaviours.
A good example is conflict, where my natural tendency is to try to win the argument.
One of the models we use on our team development programmes is Patrick Lencioni and the
5 Behaviours Of A Cohesive Team
. I have learnt a lot from Patrick Lencioni productive conflict and have changed my style to try and incorporate that in my personal and professional life.
As a leader, it is also good to know when to lose a battle to win the war, and we will all have examples where we have had to compromise on our own authenticity.
As long as that doesn't stray into unethical behaviours, it seems to be a very modern leadership skill we all need.
How authentic is your leadership coaching?
People Perform offer leadership coaching that runs over a 6-month period.

The coaching journey itself is also backed up by accessing to both the Coaching For Leaders and Resources hub to ensure that as a coachee, your coaching experience does not end when your programme does.
New! 21/22 L & D Brochure
Interactive. Easy To Navigate. Our brochure is here!
Created with