I read an article recently by HBR that caught my attention. It was called "Communicating Authentically in A Virtual World".

Being both flexible and situational when leading and communicating with a team, was never more challenging than at the height of the Covid-19 pandemic.

Very few organisations were prepared to deal with its impact on them financially. I would argue that none were prepared to deal with its impact on their leaders and teams, both physically and emotionally.

The article focuses on situations requiring the need for authentic versus inauthentic communication, mediums to use and things to consider moving forward.

The article itself is a leadership-focused piece and considers the dichotomy of displaying emotions inauthentically in a situation and risking a backlash or displaying too many emotions which may be seen as inappropriate. It is also heavily linked to the new hybrid working environment.
Key Take-Aways
You can read the full article
HERE
but the key takeaways are as follows:
1 – Communicating Authentically – Use the richest media possible – face to face/video.
2 – Communicating Inauthentically – Perhaps the need to suppress certain emotions not appropriate for an interaction – use email or telephone/audio message.
3 – What about being authentic via email? Email can be perceived as low effort so this is about making it clear it was not a purposeful (low effort) choice and may be built into a larger communication plan.
As a Leader, it is more important than ever to be mindful of the communication choices you make and the possible, however unintended, consequences of them.
But. How does all that link to preferences and colour energy?
After reading the article, it got me thinking about how our personalities and our preferences may come into play.

The main reason for this is that in the world of leadership development, colour energy and preferences are often dismissed as unsophisticated.

I would argue that in today's hybrid working environment they play a more important role than ever. Just look at the model below and then consider the article summary: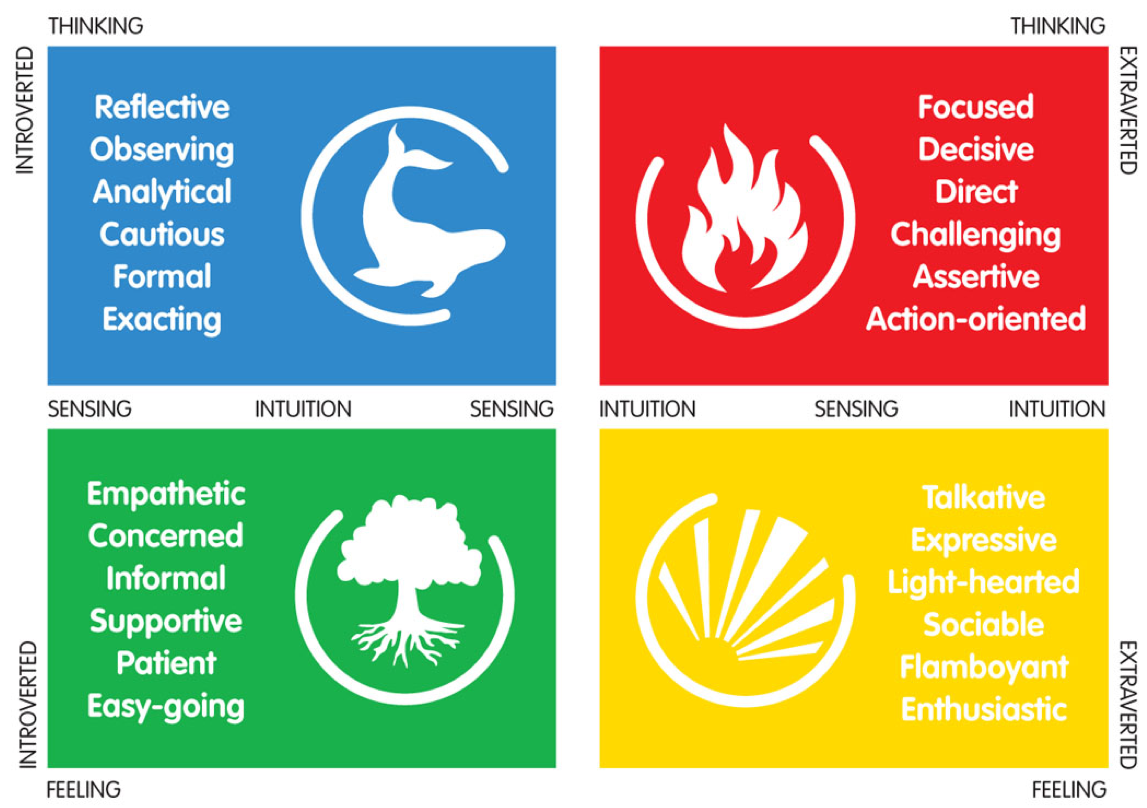 A leader with a preference for thinking, leading with either blue or red energy may well need to build upon the perception of email as low effort, with a follow-up face to face conversation to congratulate a team member.

Equally, a leader with a preference for feeling, leading with either green or yellow energy, may find email or audio a high effort medium but a better way to communicate inauthentically.

Our personalities, preferences, and behaviours influence how we wish to be seen and how others form a perception of us. Each of us, especially leaders have a natural style or element that is linked to our colour energy and our preferences.

Jacinda Arden, Elon Musk, Bill Gates, Boris Johnson. Each of these leaders has an identifiable style linked to the model, colour energy and preferences. If you consider the article offers communication plans, then our personality and our preferences could be the platform from which we are communicating.

The challenge, for communicating in a virtual world is knowing how to make that platform, flexible.
How does this translate into teams?
The same article illustrates how it's ok for web cameras to be turned off, in fact, encouraged, to allow team members to focus less on emotional leakage and more on the task at hand.
But how does that affect those team members whose preferences influence them to see face to face, expressive communication as authentic?
How many instances have you heard the term "I can't see you" in a recent zoom meeting? Our preferences drive our personality and our behaviours.
As we have explained in previous
articles
, being able to adapt your communication style with greater understanding and better relationships with those around you.
However, the simple fact is that if 90% of organisations are adopting a hybrid working model, then face to face interactions will decrease.
So here are some authentic, colourful, communication tips and media choices for teams and leaders:
Colourful Clues. Look for clues in your team member emails and be sure to build that into what you are communicating. I would argue (against the article) that someone with a preference for blue energy and sensing, may find a factual, direct email as authentic as a video call for someone with a preference for High yellow and extraversion.

A little bit of green energy goes a long way. A lack of empathy and trust is a key challenge for ensuring a hybrid working model is successful. Consider having something in any medium you choose that has a supportive or empathetic undertone. Goals and targets are important but sudden changes in plans communicated directly may result in a stress trigger or backlash, like what the article identified.

Choose Your Team Channel. Group chats and IM feeds allow team catch-ups with personal stories to be authentically communicated, allowing team members with both a preference for introversion and extraversion to communicate openly. One way of making it work is to consider it an equal space, where you can dip in and out. Treat it like a virtual break room, complete with a "no shop talk" policy if you choose. The same can be said of group chats on Teams, Zoom or WhatsApp.

Choose the right communication tool for the right activity. One of the key points of this article is that we all have a preference for how we communicate at work. However, our way of doing things is not the only way, particularly in a hybrid working environment. Linked to the communication plans from the article, this is a template we use when working with both hybrid team leaders and teams. It's simple, effective, and more importantly, highlights any concerns, by preference, that may need to be addressed amongst team members.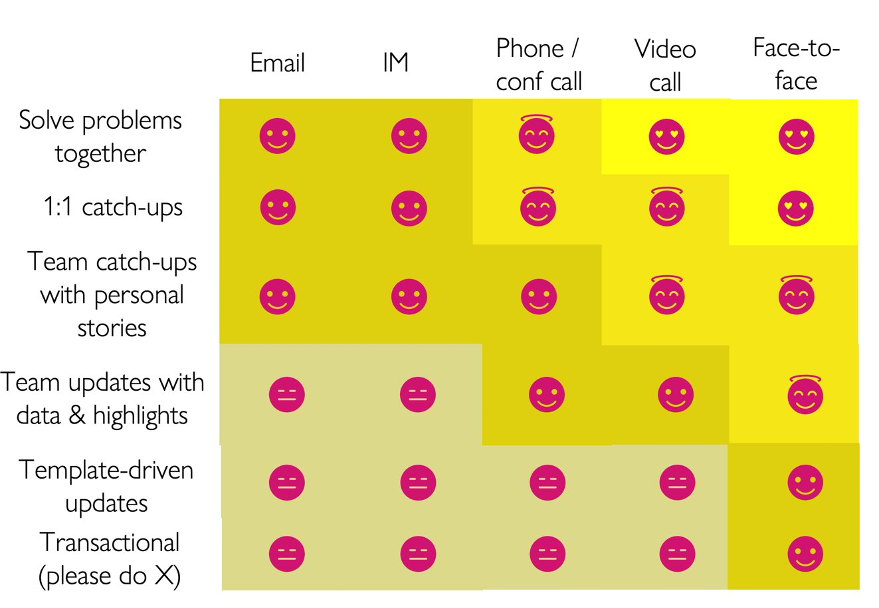 Team Colour Maps
My colleague Rich will tell you that no matter the level of seniority, looking at yourself as a team, by preference and colour energy, is as powerful for leaders as it is for teams.

It sparks positive discussion and instantly creates an awareness that goes past an individual as a member of the team and challenges a mindset shift of the team as the individual.

The map itself offers a birds-eye view of how you are making decisions, development opportunities and allows you to consider both strengths and weaknesses on how you not only communicate but move forward as a hybrid team.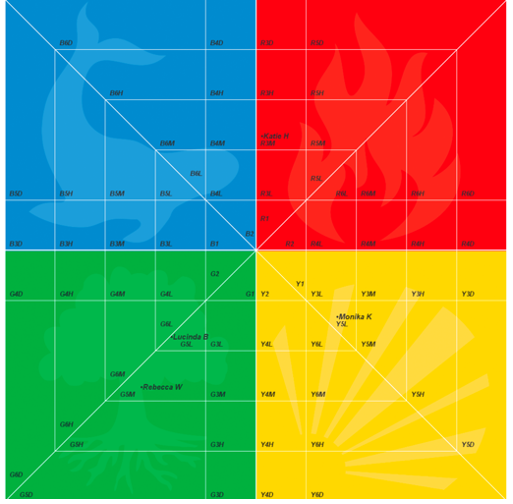 Is your hybrid working model really working?
More than 90% of organisations are now adopting a hybrid working model (HBR Feb 2022). Yet, a lot of models aren't working because leaders and teams are left to follow a basic concept and need training and assistance when implementing hybrid models.
Consider also, that each of your teams and leaders is different, meaning it's likely that one team may be working in an entirely different way to another. Personalities and preferences play a part in those challenges.
If all that sounds familiar, it's because you are flat out running an HR department. You need the help, but the time to source it and pay for it takes time from other priorities.
Our
hybrid working model
features an entire eLearning module on effectively communicating in a hybrid team and it is linked very much to colour energy and colour profiling.
It's a flexible solution. If you use Insights or any colour-based profiling solution already, it will fit in with your existing approach but help embed the learning experience of hybrid working. If you're new to colour energy this article has caught your interest, give us a shout and we can talk some more.
Fancy a chat?
Email
hello@peopleperform.co.uk
and we can offer you a snapshot of our colourful teams' workshop and help you improve communication and collaboration in a hybrid working environment.
New! 21/22 L & D Brochure
Interactive. Easy To Navigate. Our brochure is here!
Created with